Eyecandy
A Harlem Poetry Lesson. Bruce Weber on The Private Library.
Featuring David Bailey, Jumel Terrace Books and The Private Library.  Bruce's been supportive of the shop for several years now.  Asked about his favorite haunts for the book My City, My New York he talked about our walks around Harlem.  Last January, a shoot he did on location here appeared in German Vogue called A<a href="http://www.booksareweapons.com/2015/01/04/all-that-jazz-omar-sy-jessica-chastain-bruce-weber-at-jumel-terrace-book/">ll That Jazz</a>, featuring Jessica Chastain and Omar Sy.  Last summer, on the hottest day of the year, he brought fellow photographer, and a personal hero of us both, David Bailey, around to shoot a piece, commissioned by Nokia (note the product placement), of the two of them taking highly pixilated pictures of each other.  Those stills were on exhibition in London in the fall of 2013.
They were followed by a small film crew in doing so.  On the cutting room floor is a conversation I had with David in the library, and the three of us posing it up on the Checker.  He's mercifully left me out and let the house, the shop, Harlem and the maestro, Gil Scott-Heron, to speak for themselves.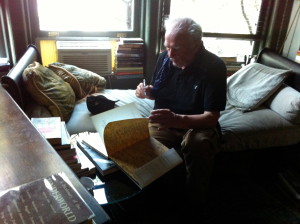 Bailey signing