A Harlem Poetry Lesson: Bruce Weber, featuring Jumel Terrace Books & The Private Library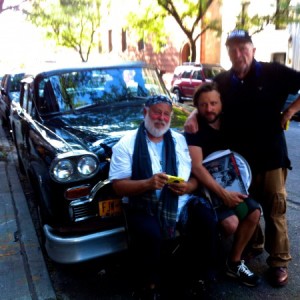 Grand Guy Bruce Weber brought fash' legend David Bailey about, the hottest day of the year 2013, to take pictures around the house with not-yet-on- the-market very yellow Nokia cell phone/cameras.  They were shooting the commercial that ended up an homage to local hero, Gil Scott Heron. Bruce's been supportive of our efforts for several years now.  Asked about his favorite haunts for the book My City, My New York he talked about our walks around Harlem.  In January 2014, a shoot he did on location here appeared in German Vogue called All That Jazz, featuring Jessica Chastain and Omar Sy.  We've Vreeland in common and had a lively reminiscence. Needless to say, it was an honor and a privilege. I was always an admirer, as much of his masculine as photographic accomplishments: Jean Shrimpton (1961), Catherine Deneuve (married 1965), Jane Birkin, Marianne Faithful, Penelope Tree, Monica Vitti, Angelica Huston & Donyale Luna. David Hemmings plays him in Antonioni's Blow Up. He photographed the Kray twins, the Rolling Stones when they were babies (cover, Out of Our Heads), the Beatles, Brian Epstein, the Who, Andy Warhol, Rudolf Nureyev, Roman Polanski, Sharon Tate and now, ta-da, Thometz.
"Well, it is like this," he says, "I wanted to be Fred Astaire but I couldn't, so I thought the next best thing was to be a fashion photographer. Being of humble beginnings it was quite difficult, but easier than I make out – being of humble beginnings."
Likewise, I'm sure. The Private Library & Jumel Terrace Books enter the picture about 5:40 into the flick.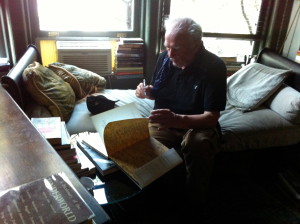 David Bailey signing his book, Another Image: Papua New Guinea.